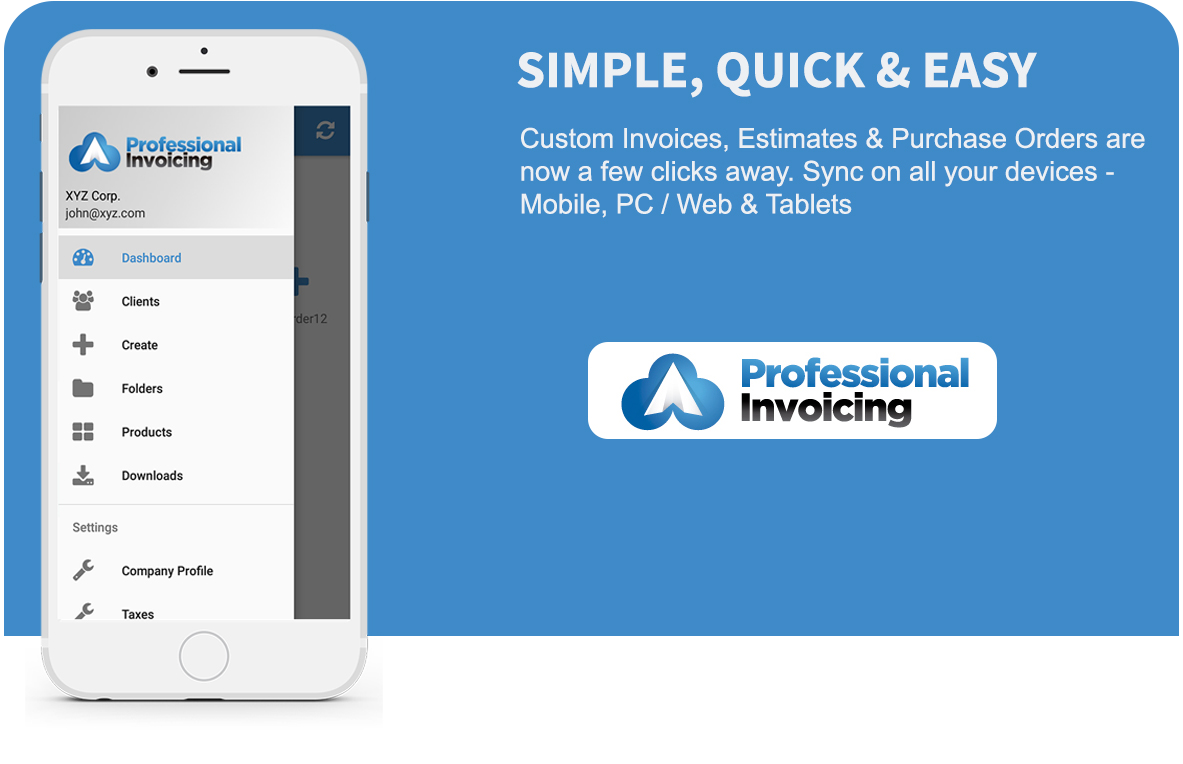 Cloud Sync and Offline Mode
With Professional Invoicing all of your information is synced automatically in Real-Time. The app also works in offline mode when you aren't connected to internet.

Custom Invoices
Custom Invoice IDs, Footer / Disclaimers, Payment Options, Tax ID Nos., Shipping Options, Multiple Taxes, Upto 4 Decimal Point support, Company Logo, Client Signatures, Company Seal and many more PDF customization options.
Track Data and Reports
Track & filter all of your data e.g. payments, invoices, products etc. Color Coded tracking for easy of navigation. Simple & in-depth reports for the bigger picture.
Instant Invoices, Estimates & P.Os
Invoice right on the spot, the second your job is finished! Professional Invoicing is the best solution for invoicing needs of a business of any scale and size.
Team Management
You also can share information easily. Whether you have a big company or a small one—you can decide which users have what permissions. Then, they can do their part to keep your company running seamlessly.
Smart Payment System
Our smart payment system helps you track & organise payments. Easily remind customers for their pending payments. Offer your payment options & terms to your customers.
Security
All of your information is protected and backed up for your peace of mind. Sensitive data is handled using industry-standard encryption methods.
Receipts with Images
Professional Invoicing is an idea companion for receipts. It allows you to assign receipts with images to an invoice. Receipts can be categorized such as travel expense, meals etc. You can also add them as an item in a invoice, apply taxes to them and much more.
Client/Company Signatures
You also can include a custom company seal or signature for uniformity throughout your business. Every invoice printed will have just the right message you choose!
Excellent Customer Support
If you have any issues, questions or concerns, we are always here with premiere customer service. Just get in touch with us here & we will be will be happy to help.
Tax control
You'll have no problem with working with tax-ready documents. You can use multiple taxes, and you also can use Tax ID numbers. When tax time comes, we're ready to give you the tools you need for ease of filing. You also can easily customize each tax name as your business needs. You also can have individual taxes for each item.
Custom Invoice IDs
Use custom invoice IDs as required by your business. Use alphanumeric identifier or prefixes, it's your choice. This is a perfect way to keep your customers, their accounts & your business in order.
Have more queries? Contact us